Goal Getters: Inspiring success
presents
Jill Spiegel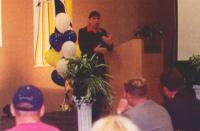 Jump on board as Jill Spiegel takes you on a hilarious, high energy ride while inspiring you to be your best!
Laugh with Jill as she re-enacts her own exciting story and shares the invaluable fundamentals which have helped millions. Find out which stars played a part in Jill's success!
Celebrate yourself and everyone around you with Jill's engaging exercises that build self-confidence and make people feel incredible!
"I felt motivated and inspired. Jill is Dynamic!"
- Susan Mortenson, Training Coordinator, Honeywell
You'll learn:
The secrets to building rapport
How to make others instantly believe in you
The hidden keys to self-motivation
How to exude confidence
Inspire success in others
Embrace humor as a communication tool
Use positive thinking to reach your goals
Live each moment with zest and energy and much more!
"I've used all Jill's fundamentals. I could never go back to the way I was before."
- Debbie Thompson, Administrative Assistant, Daytons